You are here:
Home /
Audio / StarTech.com HDMI Over IP Extender Kit with Advanced Compression - ST12MHDLNHK
StarTech.com HDMI Over IP Extender Kit with Advanced Compression
Part number:
V240105
Manufacturer product ID:
ST12MHDLNHK
UPC Code:
UPC65030878760
Box quantity:
0*
Sub-category:
Components
Manufacturer:
StarTech.com
Weight (Kg):
1.23
Warranty period:
24 Months
Currently out of stock


Please log in to see prices and stock
Efficiently distribute video throughout your site using your local area network
Easily create your ideal digital signage with a versatile and scalable video distribution system
Deliver brilliant HD quality video with 1080p support
Extend and control HDMI video over your existing LAN to create a state-of-the-art network of video displays in a variety of environments where digital signage is required.

Ideal for Universities, Offices, and Restaurants
Reliably Extend Compressed HDMI Video with Bandwidth Efficiency
This extender uses advanced compression to distribute high-quality HDMI video over your network, with minimal bandwidth requirements.
With advanced compression technology, broadcasting your video signal requires only 6 - 12 Mbps of local area network bandwidth, when in operation for each kit.
Flexible & Scalable Deployment Options
The HDMI over LAN extender offers many configurations to accommodate your set up.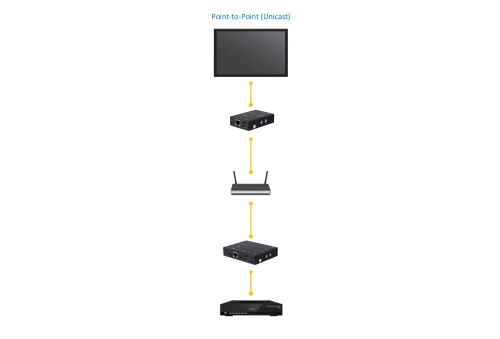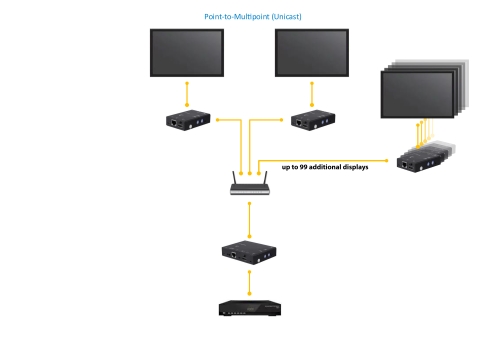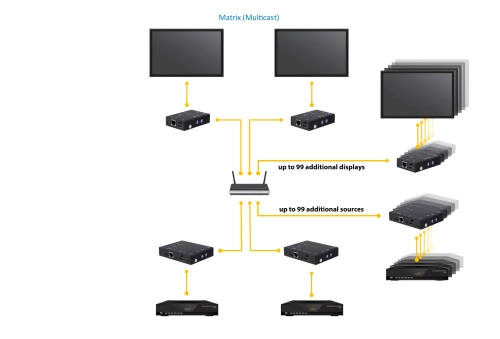 This HDMI video extender provides four ways to control your video network configurations.
Rotary DIP switches located on the Tx and Rx
Your computer connected to the transmitter or receiver via a serial cable
Over IP using any device equipped with a browser on the same local area network (i.e. tablet, laptop, smartphone)
Infrared (IR) remote control using the included receiver
Comprehensive Product Testing & Expert Technical Support
StarTech.com conducts thorough compatibility and performance testing on all our products to ensure we are meeting or exceeding industry standards and providing high-quality products to our customers. Our local StarTech.com Technical Advisors have broad product expertise and work directly with StarTech.com Engineers to provide support for our customers both pre and post-sales.
Specifications
Hardware
Audio
Yes
Cabling
Cat 5e UTP or better
Daisy-Chain
Yes
Ports
1
Rack-Mountable
Yes
Performance
Audio Specifications
2-channel
Max Distance
15 m / 50 ft
Maximum Digital Resolutions
1920 x 1080 (1080p) 60Hz
Supported Resolutions
1920 x 1080 60Hz
Wide Screen Supported
Yes
Connector(s)
Local Unit Connectors
1 - HDMI (19 pin) Female Input
1 - RJ-45 Female Output
1 - 3.5 mm Mini-Jack (3 Position) Female
1 - Infrared Female
Remote Unit Connectors
1 - HDMI (19 pin) Female Output
1 - RJ-45 Female Input
1 - 2.5 mm Mini-Jack (3 Position) Female
1 - Infrared Female
Special Notes / Requirements
Note
Your router must support IGMP snooping. Please refer to your network switch or router documentation to ensure IGMP snooping is supported and enabled
Each kit requires 6 to 12mbps of local area network bandwidth, when in operation
Indicators
LED Indicators
1 - status LED (transmitter)
1 - status LED (receiver)
Power
Input Current
0.3 A
Input Voltage
100 - 240 AC
Output Current
1 A
Output Voltage
5 DC
Plug Type
USB Mini-B (5 pin)
Power Source
AC Adapter Included
Environmental
Humidity
0% - 80 %
Operating Temperature
0°C to 40°C (32°F to 104°F)
Storage Temperature
-10°C to 60°C (14°F to 140°F)
Physical Characteristics
Color
Black
Enclosure Type
Aluminum
Product Height
2.8 cm [1.1 in]
Product Length
30.9 cm [12.2 in]
Product Width
17.9 cm [7 in]
Weight of Product
3.2 kg [7.2 lb]
Packaging Information
Package Height
24 mm [0.9 in]
Package Length
10.8 cm [4.3 in]
Package Width
92 mm [3.6 in]
Shipping (Package) Weight
1.2 kg [2.7 lb]
What's in the Box
Included in Package
1 - HDMI over IP transmitter
1 - HDMI over IP receiver
2 - universal power adapters (NA, EU, UK, ANZ)
2 - mounting brackets
2 - CAT5 cables
1 - plastic screwdriver
1 - IR remote control
2 - USB-A to Mini USB-B cable
1 - DB9 to 2.5 mm serial adapter cable
1 - IR blaster
1 - IR receiver
8 - rubber feet
1 - instruction manual

*Box quantity refers to the number of units contained in this product's outer packaging. It does not refer to the number of products purchased for the quoted unit price unless otherwise stated.
Please
log in
to see prices and stock