StarTech.com Dual Monitor Desk Mount - Vertical
Part number:
V216812
Manufacturer product ID:
ARMDUALV
UPC Code:
UPC65030870146
Box quantity:
4*
Sub-category:
Rackmount
Manufacturer:
StarTech.com
Weight (Kg):
3.38
Warranty period:
60 Months
Currently out of stock


Please log in to see prices and stock
Key Features
Mount two monitors vertically to save space and increase your comfort
Desktop monitor mount supports two displays
Up to 27" (686 mm) in size and 22.1 lb. (10 kg) in weight per monitor
Heavy-duty steel construction
This sturdy and sleek dual-monitor mount raises two displays off the surface of your desk or table, to save space while increasing your productivity. With its steel construction, the dual-monitor mount attaches easily to your desk or table to securely hold two monitors, each up to 27", stacked vertically.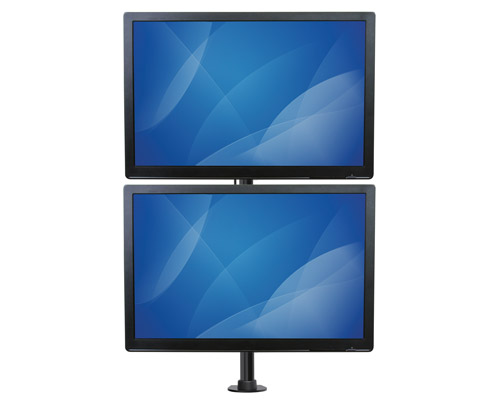 Configure your displays to enhance productivity
The dual-monitor mount holds two displays, one above the other, in a vertical configuration. The height of the monitors can be adjusted, as required, along the 27.5" (700 mm) pole.
With the dual-monitor mount, you can work more comfortably, reducing neck and eye strain without having to look side to side when comparing files or reviewing reference material on your screens. It's ideal for numerous applications including web design, coding, creating and reviewing files, and many others. The monitor mount saves valuable desk space and lets you work clutter-free, which is a welcome addition in numerous office environments including business, healthcare, and financial settings.
Adjust your screens to the ideal position
The monitor mount enables smooth, effortless +45°/-45° tilt and +45°/-45° swivel, making it easy to reduce glare and find the perfect viewing angle. It can also rotate a full 360° giving you flexible viewing options.
Rugged steel design
The heavy-duty steel monitor mount holds your two monitors securely in place to protect your investment, and provide long-lasting performance. The dual-monitor mount supports two displays 13" to 27" (330 to 686 mm) in size and 22.1 lb. (10 kg) in weight per monitor. The surface finish features a powder coating to help resist scratches.
Easy installation
The dual-monitor mount makes it easy to mount your VESA mount compatible displays above your desk, table or other surfaces, using the included C-clamp or grommet mount. For easier mounting, the VESA mount features notches that let you pre-set the mounting screw, then slide the monitor into place and tighten the screw. To help keep your work area free of clutter, the monitor mount also features cable clips that keep your cables neatly out of sight.
The ARMDUALV is backed by a StarTech.com 5-year warranty and free lifetime technical support.
Specifications
Warranty Information
Warranty
5 Years
Hardware
# of Displays Supported
2
Mounting Options
Desk & Grommet Clamp
Orientation
Vertical
VESA Hole Pattern(s)
75x75 mm
100x100 mm
Wallmountable
No
Performance
Display Rotation
360°
Display Tilt
+ 45° / - 45°
Maximum Display Size
27in
Minimum Display Size
13"
Mounting Surface Thickness
Desk Clamp: Table Thickness 0.39 - 3.46 in. (10 - 88 mm)
Grommet Clamp: Table Thickness 0.39 - 3.46 in. (10 - 88 mm)
Table Hole for Grommet Mount: 0.41 - 1.96 in. (10.5 - 50 mm)
Swivel / Pivot
+45° / -45°
Weight Capacity (Per Display)
10 kg [22.1 lb]
Physical Characteristics
Color
Black
Enclosure Type
Steel
Product Height
90 cm [35.4 in]
Product Length
11.6 cm [4.6 in]
Product Width
12 cm [4.7 in]
Weight of Product
3.4 kg [7.5 lb]
Packaging Information
Package Height
12.2 cm [4.8 in]
Package Length
16.4 cm [6.5 in]
Package Width
43.8 cm [17.2 in]
Shipping (Package) Weight
4.2 kg [9.4 lb]
What's in the Box
Included in Package
1 - lower pole
1 - upper pole
1 - desk clamp
1 - grommet collar
2 - VESA monitor mounts
1 - pole connector
2 - cable-management clips
1 - cap
5 - rubber pads
1 - grommet plate
1 - 3 mm hex key
1 - 5 mm hex key
1 - 6 mm hex key
8 - M4x12 mm screws
8 - M5x12 mm screws
8 - washers
1 - instruction manual

*Box quantity refers to the number of units contained in this product's outer packaging. It does not refer to the number of products purchased for the quoted unit price unless otherwise stated.
Please
log in
to see prices and stock