You are here:
Home /
Hard Drives External / StarTech.com USB 3.0 Universal 2.5in SATA III or IDE Hard Drive Enc - UNI251BMU33
StarTech.com USB 3.0 Universal 2.5in SATA III or IDE Hard Drive Enc
Part number:
V240200
Manufacturer product ID:
UNI251BMU33
UPC Code:
UPC65030859226
Box quantity:
0*
Sub-category:
Enclosures
Manufacturer:
StarTech.com
Weight (Kg):
0.24
Warranty period:
24 Months
Currently out of stock


Please log in to see prices and stock
StarTech.com USB 3.0 Universal 2.5in SATA III or IDE Hard Drive Enclosure with UASP - Portable External SSD / HDD
Broad drive compatibility with support for 2.5in IDE and SATA HDD / SSD
Optimal performance with SATA III & UASP support
Maximum portability with a small footprint and no external power adapter required
The UNI251BMU33 Universal 2.5in Drive Enclosure lets you turn a 2.5in SATA or IDE hard drive (HDD) or solid-state drive (SSD) into a portable USB 3.0 storage solution.
This versatile enclosure offers a simple solution for re-purposing 2.5in HDDs and SSDs that are no longer in use into convenient external storage. Since the enclosure supports either legacy IDE or SATA drives, you can rest assured that you'll have the correct option on-hand when it's time to swap another drive in, without having to worry about compatibility.
To get the most from your SATA III drives and ensure maximum performance and speed, the UNI251BMU33 is enhanced with UASP support. When paired with a UASP-enabled host controller, the enclosure delivers transfer speeds up to 70% faster than conventional USB 3.0. See our UASP testing results below for further details.
Perfect for carrying your external drive along with your laptop, the UNI251BMU33 is USB-powered, so you won't need to carry around an external power adapter. Plus, the enclosure features a small-footprint design, making it a great solution for on-the-go laptop and desktop users who want to add storage to their computer without taking up much space.
The UNI251BMU33 is backed by a StarTech.com 2-year warranty, and free lifetime technical support.
Improved Performance with UASP
UASP is supported in Windows 8, Mac OSX (10.8 or above), and Linux. In testing, UASP performs with a 70% faster read speed and 40% faster write speed over traditional USB 3.0 at peak performance.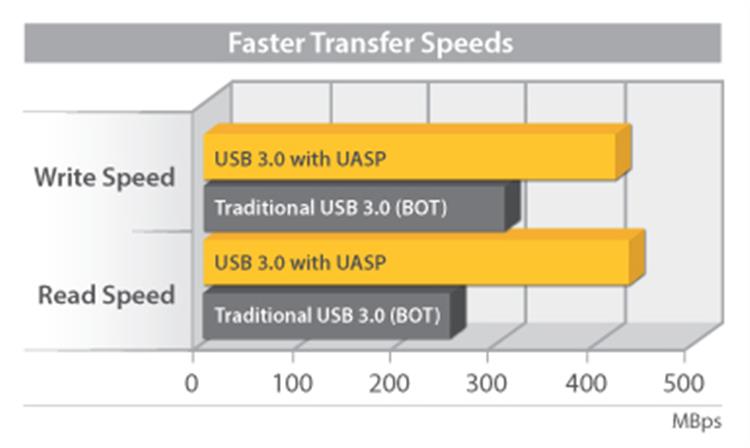 At the same peak in testing UASP also shows an 80% reduction in required processor resources.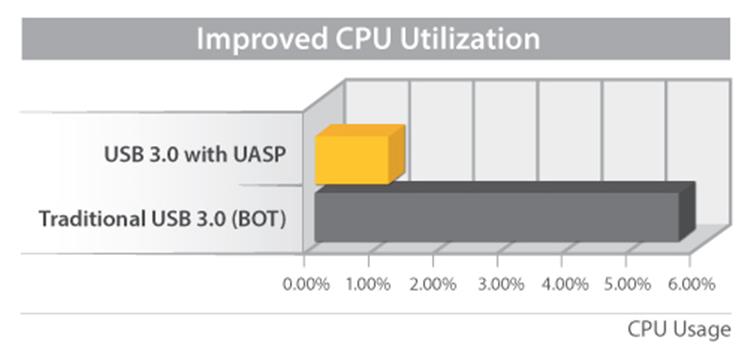 Testing results were obtained using an Intel® Ivy Bridge system, a UASP-enabled StarTech.com Enclosure, and a SATA III solid state drive.
Specifications
Hardware
Bus Type
USB 3.0
Chipset ID
JMicron - JMS330
JMicron - JMB565
Compatible Drive Types
SATA & IDE
Drive Installation
Fixed
Drive Size
2.5in
Interface
USB 3.0
Number of 2.5 inch bays
1
Number of Drives
1
Performance
Hot Swap Capability
No
Max Drive Capacity
Currently tested with up to 2TB 7200 RPM hard drives
Maximum Data Transfer Rate
5 Gbps
Port Multiplier
No
RAID
No
Type and Rate
USB 3.0 - 5 Gbit/s
SATA III (6 Gbps)
UASP Support
Yes
Connector(s)
Drive Connectors
1 - SATA Data & Power Combo (7+15 pin) Receptacle
1 - IDE (44 Pin, EIDE/PATA, 2.5" HDD) Female
Host Connectors
1 - USB 3.0 Micro-B (10 pin, SuperSpeed) Female
Software
OS Compatibility
OS independent; No software or drivers required
Indicators
LED Indicators
1 - Drive Power / Activity
Power
Power Source
USB-Powered
Environmental
Humidity
0% ~ 90% RH
Operating Temperature
0°C to 60°C (32°F to 140°F)
Storage Temperature
-20°C to 70°C (-4°F to 158°F)
Physical Characteristics
Color
Black
Enclosure Type
Aluminum
Max Drive Height
9.5 mm [0.4 in]
Product Height
1.7 cm [0.7 in]
Product Length
12.5 cm [4.9 in]
Product Width
80 mm [3.1 in]
Weight of Product
130 g [4.6 oz]
Packaging Information
Package Height
32 mm [1.3 in]
Package Length
13.1 cm [5.2 in]
Package Width
16.1 cm [6.3 in]
Shipping (Package) Weight
236 g [8.3 oz]
What's in the Box
Included in Package
1 - USB 3.0 SATA/IDE 2.5" Hard Drive Enclosure
1 - USB 3.0 Type-A to Micro-B cable
4 - Installation screws
1 - Screw driver
1 - Instruction manual

*Box quantity refers to the number of units contained in this product's outer packaging. It does not refer to the number of products purchased for the quoted unit price unless otherwise stated.
Please
log in
to see prices and stock